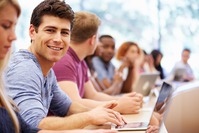 Mechanical & Electrical Engineers, Assistant Engineers, and drafters are welcome to join our ever-growing team.
If you are looking for an opportunity to be involved in interesting and varied engineering design projects, we would like hear from you.

Please deposit your resume and we shall contact you when there is an available vacancy.

Working Conditions:
Usually work on regular business hours, but may have to work irregular hours to meet project deadlines.